Details

Written by JT McAvoy
Since the beginning of war itself delivering medical care even in its basic form to injured on the battlefield has been a challenge.  As the face of war has changed so has the medical care.  Medics can now provide life saving care to those wounded in a battle hundreds of miles from the nearest medical station, or even friendly territory.   Combat medical care has undergone many changes and improvements in equipment and training.  With these changes have come new challenges never thought of before, some have remained the same though. One of these universal challenges is how to get all your life saving equipment to those that need it on the battle field.  Let's face it sometimes you can't land on the patient's location with a helicopter or even drive up to them in any type of vehicle.  
Sometimes it has to be you on foot taking the care to the patient under fire and in the harshest conditions that man and nature can combine on a modern day battlefield. There are pretty much two lines of thinking on how to get medical supplies on your person to your victim.  One is to convert a tactical vest to carry medical supplies.  This works and works well.  I have one that at times I would not trade for anything.  The other is some type of bag or backpack to carry your supplies.  Until recent years there were only a few type of bags available for use, most of these were military designed.  They were usually not designed by the people that needed to use them so they had severe short comings.  Recent world events, manufacturing technology, and simple common sense have yielded a new market for combat and tactical medics.  Finally our importance is recognized and appreciated on the battlefield.
    There are many companies on the market today that manufacture tactical medical equipment.  The medical backpack goes by many names, such as STOMP, Special Ops Medical backpack, Ranger bags, etc.  The bottom line is no matter what you call it, it is a medical pack designed for the battlefield.  I am sure any combat/tactical medic will agree with me when I say that these pack must have certain requirements to meet.   This includes everything from color, design, how tough is it, and how much medical equipment and supplies can I reasonably carry in it.  Unfortunately all portable medical packs have a limit on how many patients that you can treat out of it.  My personal requirement is that I be able to treat 2 critical patients and 2 patients with minor non-life threatening injuries.  With this in mind I set out on a quest to find the best medical pack for the money.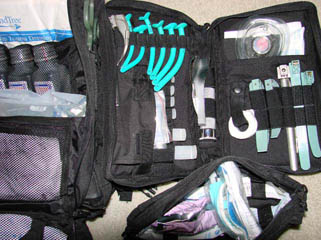 I contacted a few companies and just as in the past Voodoo Tactical and Majors surplus and Survival came to my rescue.  I will take this opportunity to mention that my intention was to take their medical pack and another un-named company (who supposedly has the world's premier STOMP Packs) and compare them.  This un-named company however told me in not so many words that their product needed no further testing after I told them my intentions.  I took this to mean they are scared and will not back up their products when put against the competition.  It is probably a good thing, the medic pack supplied to me by Majors Surplus and Survival is to date the best medical pack that I have had the opportunity to carry and use.
    The Deluxe Professional Special Ops Field Medical Pack is how this product is listed on Major Surplus and Survival.  The medical pack (how it will be referred to for the rest of the article), is made by Voodoo Tactical.  It has been my experience thus far that anything manufactured by Voodoo Tactical is made to the highest specs and standards and this is no exception.  While I am unsure as to who inspired this design it is obvious that it was a medical professional.  It is designed to meet the high demands of the battlefield and other types of medical/rescue situations.  It has all the desirable features that most people would look for in a pack such as this.
    The medical pack is made with pack cloth.  This allows for rugged construction, great strength, and some abrasion resistance.  There are six cinch straps on the outside of the medical pack to allow it to be more compact when not filled.  The top of the pack sports two handles for grab and go as well as drag handles.  There is also a port at the top to allow for a hydration system tube.  On the front are multiple M.O.L.E. attachment points for exterior storage or whatever your imagination can think of.  The sides of the medical pack have a pocket on each side.  One is the perfect size for a AA maglite, although I opted to put a chem light there.  This pack also has padded back panel for carrying comfort, as well as a chest and waist strap.  There are also grommets on the bottom to allow for water drainage.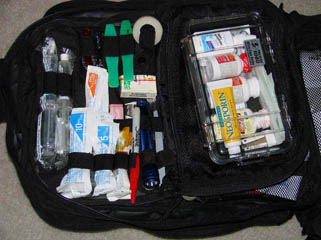 The inside of this medical pack is divided into three sections.  The front zips down and folds flat, on one side you have 5 mesh pockets with Velcro tops and on the other you have a panel with multiple elastic holds for various items.  Under this on both sides are a series of open side accessed pockets, and under these pockets is a zipper pocket that allows additional storage that spans the whole panel.   The middle/back opens to reveal more storage.  Again on one side you two pockets.  The top one unzips and folds down to reveal two more one with multiple elastic holds the other has a zipper.  A company that will not be named (again because they fell their products are too good to be tested) has a waterproof case that fits perfect in this pocket.  The bottom pocket on this panel is mesh and has a cord that can be pulled to tighten it.  On the other side there are two more pockets for storage of supplies, there are three of them.  There are two bags on the inside of these compartments as well.  I found these to be a great addition and while the uses of these bags are unlimited I chose to use mine for the intubation kit I have.  It fit perfect, so my recommendation is to use these for the airway supplies.  There is one more compartment that stretches the height of the pack on the very back this is to allow a hydration system to be put in place and used.
    This pack has more compartments, and pockets to put medical supplies and equipment in than any pack I have seen.  I was able to outfit this entire pack with everything I needed for any possible situation I could think of.  I was also able to place other optional items with there without any problem.  So you can outfit this pack with everything you need and still have room to spare.  This is a great capability to have and one of the things that impressed me about the bag itself.  I do have to add that empty this bag is 7.6 lbs after I outfitted it the way I like it came to 65 lbs.  Due to the construction though I found carrying it for a long distance was not a problem.  I do have a complete list of what I outfitted my bag with; it is not attached to this article because it is a very long list.  However anyone who is interested please e-mail me and I would be more than happy to provide the list to you.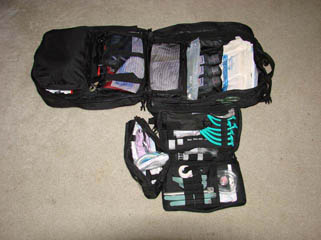 There is nothing that I did not like about the bag.  I think it is very well designed, tough, spacious, and held up under the most grueling conditions that I have put it through to date.  That is a lot of abuse because this medical pack goes with me everywhere, it is standard equipment now.  When I am doing work for other people it is also an item that they request I bring.  To me that is more telling than any test I could ever put it through.  All this to say it is the best bag I have tested but it is not perfect.  There are a few changes that I would recommend to the manufacture.  The first one is on the front compartment where all the elastic holds are.  Everyone of the elastic holds are the same size unfortunately not all of my medical supplies are.  I would recommend that most of them stay the same size but make the others different sizes, bigger and smaller.  The second change I would make is how the mesh pockets are attached to the panels on the inside.  I love the mesh pocket idea but they need a more heavy duty attachment being that they are mesh.  I say this because on my medical pack on the middle compartment, the mesh pocket at the bottom came loose (see picture) from the top approximately 2 inches down when I pulled the chord tight.  While it did stop there it was none the less disappointing.  The third change is not really a change just an addition really.  I do like the fact that it comes with two removable bags on the inside.  I would add a strap that ran from the top of the compartment to the bottom where it snaps in place.  On this strap I would place 2-4 points on there I could hook these two bags.  This way every time I opened that compartment the bags would not fall out, because you don't always need them when you open the bag.  When things like that fall out especially under fire they have a tendency to get lost.  The strap being detachable at the bottom also allows you to get supplies behind the bags yes leave them attached to the strap so there again they don't get lost.  The final recommendation I have is the color.  While this is not important to all, myself I like the option.  It comes now available in black only.  I think the addition of olive drab (you can cammo this anywhere. See sniper suit article), and perhaps a coyote brown would be sufficient.  Nothing fancy of flashy just a few options.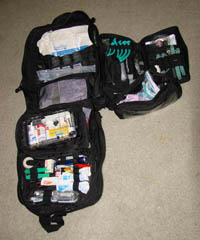 Over all I am impressed especially for the price.  A medical back of equivalent caliber bought from any other place is going to run you between $250 and $400.  That is scary, especially considering that most S.W.A.T. Medics still buy a lot of their own gear out of pocket.  This medical back brought to you by Voodoo Tactical and Major Surplus and Supply is in the neighborhood of $120.  I like this as do most people that I tell when asked about this product, and I get asked a lot.  You get a spacious, dependable, tough medical pack for a price that will not break your checking account or budget (depending on who you work for).  Major Surplus and Supply have impressed me before with their Voodoo Tactical product line and continue to do so with this product.  I look forward to testing further things from them.  As far as medical packs are concerned I feel that they have the best on the market at this time.  I have and will continue to recommend this product to my friends, colleagues, and any special teams or special needs medics and mobile medical units.
JT McAvoy
Director of Marketing/Tactical Medic
This email address is being protected from spambots. You need JavaScript enabled to view it.